Fifty Shades of Orange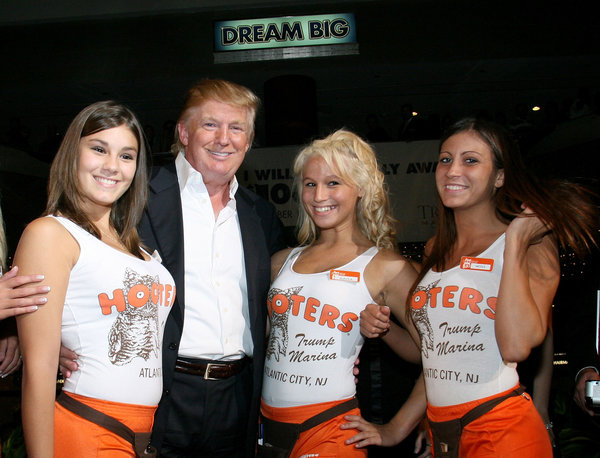 He's so overbearing. He runs his hand through his unruly hair. He looks frustrated, angry. What is his problem? Apart from this silly girl standing appreciatively in front of him. My subconscious is figuratively tutting and glaring at me, over her half-moon specs. My heart rate has picked up. My medulla oblongata forgets to fire any synapses to make me breathe. I notice through a blur what he is wearing: a large rumpled blue suit, a very long red tie, black shoes.
He seems so, "big," I hear myself accidentally say out loud.
"You know what I think? Here's what I think. Plenty of people have told me, not big . . . huge, yuge . . . big league huge," he says.
I pause, fractionally too long, drinking in the sight of him. He is still with me. And what is more, he has taken me out furniture shopping. I peek at him through my lashes. He has pops a couple of Tic Tacs in his mouth, the orange ones.
"I've said it before, I am automatically drawn to beautiful. People keep calling me . . . I tell you. They tell me it's like a magnet . . . if any Muslims are as hot as you, I let them in . . . no problem," he says.
"I can barely think," I murmur.
I aim to find out what his secret is. I realize that we are alone in a corner of the furniture store.   I smile. He looks down at me. His lips twitch.
He lunges at me, pushing me against the wall. He's pinning me to the wall, using his hips. His hand grabs my hair, yanks down, brings my face up, and his lips are on mine. It is only just not painful. I moan into his mouth, giving his tongue an opening. He takes full advantage, his tongue expertly exploring my mouth. I have never been kissed like this.
My tongue tentatively strokes his and joins his in a slow, erotic dance that's all about touch and sensation, all bump and grind. I'm helpless, my head held, his hips restraining me. Oh my, he wants me. I want him, here, now, in the furniture store.
His cell phone rings. It is someone calling from the campaign. I know it is important. He is important. I listen to his end of the conversation.
"You want Bill Clinton . . . a has-been, totally irrelevant . . . back in the White House? I have been saying this all along, okay. If Bill Clinton becomes the first First Gentleman, you want hanging out with Sophie Trudeau of Canada? Let me tell you . . . she's kind of hot too . . . the Trudeau woman. And what about the First Lady of Scotland? Okay? Bill Clinton running around with her too? Bad idea, bad. That would be stupid. I have been saying this all along. People have to wake up, wake up big time."
He hangs up.
"There is no First Lady of Scotland," I say. "The First Minister of Scotland, Nicola Sturgeon, is a woman. She has a husband."
"I'll show you where they got some nice furniture," he says.
I feel foolish. He is his usual polite self.   He does not mention the explosion of passion that just happened here in the furniture store. Should I? Should we talk about it, or pretend it didn't happen. It hardly seems real, my first no-holds-barred kiss. As time ticks on, I assign it mythical, Arthurian legend, Lost City of Atlantis, status. It never happened. It never existed. Perhaps I imagined it all.
No. I touch my lips, swollen from his kiss. It definitely happened. I am a changed woman. I want this man, and he wanted me. How confusing.
"I like what just happened," I murmur.
I am not sure if he heard me. I flush at the memory of his mouth on mine, and the thought that I had not been able to touch him enters my mind. I wanted to run my fingers through his decadent, untidy, orange hair, but I had been too stunned to move my hands. I am retrospectively frustrated.
"Do you like me? People call me all the time. They say, 'Donald you can get away with it . . . you really can.' I should build a wall between women and me . . . make the women pay for it. Problem solved."
I stare at my feet, embarrassed. I narrow my eyes at him. Why can't he just kiss me again? I smile at him. I am aware that I am biting my lip.
"Ready?" he asks. I nod and want to say for anything. But I can't articulate the words, as I am too excited.
He is beside me in an instant. He glances down at me, a slight smile on his lips. And five seconds later, he grabs my crotch. He does not caress me there, or brush against me. He grabs me by the genitals.
"Does that garbage really work for you?" I hear myself shout. My instincts take over as my as my heartbeat accelerates and adrenaline spikes through my system. My elemental defending impulses take over. I intuitively push him away.
"I have been saying all along . . . women let me . . . because I am good-looking . . . and I am a star."
"Not this woman," I say. "If that is how you approach it, I want no part of you at all. And I will definitely be voting Democratic in November."
(Gerald Weaver is the author of the novel, The First First Gentleman, August, 2016. His well-received first novel, Gospel Prism, was published in May 2015.)